CLERK'S OFFICE
ABOUT BRANDEN C. MEYER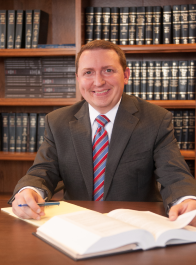 Branden C. Meyer was first appointed to the office of the Clerk of the Common Pleas Court (Clerk of Courts) in February 2014. Prior to becoming Clerk, Mr. Meyer has spent nearly 20 years in public service having worked for the United States House of Representatives, the Fairfield County Commissioners as County Clerk/Manager, and the Court of Claims of Ohio.
As the Clerk of Courts, Mr. Meyer's responsibilities are to satisfy more than 250 state statutes and court rules by providing public access to the records of the Common Pleas Court and the 5th District Court of Appeals; be the first stop in initiating any court action in civil, criminal or domestic relations court matters; collect and disburse court-ordered fees, fines, victim restitution in an expedient manner; receive, distribute and preserve official court documents; and be responsible for issuing and maintaining all motor vehicle and watercraft titles in Fairfield County.

Clerk Meyer has a bachelor's degree in history, with minors in political science and German from Capital University and studied international marketing at the University of Passau in Passau, Germany. He maintains an active real estate license and auctioneer's license with the State of Ohio and was recently selected into the National Center for State Court's Certified Court Management Program.

Clerk Meyer is a strong advocate for quality customer service. His desire to serve is reflected in his professional involvement, extending his membership in many organizations and committees.

Clerk Meyer currently serves on the Supreme Court of Ohio's Commission on Technology and the Courts, is a member of the Ohio Sentencing Data Platform Governance Board and serves as the Governor's appointee to the Automated Title Processing (ATPS) Board. He is a past president of the Ohio Clerk of Courts Association (OCCA), currently serves as OCCA Legislative Committee Co-Chair, and is an OCCA representative to the Ohio Council of County Officials (OCCO). Mr. Meyer is a member of the Lancaster/Fairfield Chamber of Commerce and the Pickerington Area Chamber of Commerce, and the Fairfield County Records Commission.

Clerk Meyer previously served on the Ohio Sentencing Commission's Uniform Sentencing Entry Ad-Hoc Committee, the Ohio Sentencing Commission's Ad Hoc Committee on Bail and Pretrial Services, the Governor's STRONG Ohio Task Force, the Auditor of State's NICS Task Force, and the Lancaster-Fairfield Community Action Board of Directors.

A lifelong resident of Fairfield County, Clerk Meyer is a life member of the National Eagle Scout Association, Peace United Methodist Church and resides in Pickerington.